The world's favourite blue hedgehog is back for a next-level adventure in Sonic the Hedgehog 2. Bring your movie hero in your living room with the Sonic Limited Edition Starter Kit.
Create Your Favourite Sonic the Hedgehog 2 Character
Or are you the good buddy that does not necessarily need to be in the spotlight, but you are the man when it comes to gadgets? Let us present you: Tails!
Are you more the funny cool type of guy? You (almost) always have a plan and things need to happen and happen quickly for you? You are the Sonic guy!
Or is it the dark side of things that you are interested in? You like discipline, you are serious and you like the colour red? Well, this is just like Knuckles!
With the Limited Edition, create your favourite character from the Sonic the Hedgehog 2 movie.
And if at one moment you change your mind, just change the shape and go with another hero!
16M+ colours
What's Sonic's Favourite Colour?
It is actually RED! Sonic is full of surprises and the Nanoleaf Shapes too with over 16 million colours! Change the mood and colours of your Limited Edition to a Sonic blue, a Tails yellow or a Knuckles red. Also find the new Sonic the Hedgehog 2 playlist in the app or download the guide for the perfect Sonic, Tails or Knuckles design.
Screen Mirror Feature
The Most Immersive Movie Experience
You want to refresh your mind on the first Sonic movie before going to the cinema to see Sonic the Hedgehog 2? Connect your PC to the TV screen, syncup your Nanoleaf Shapes installation over the Nanoleaf Desktop App and press play.
Rhythm Scenes
React to Music at Sonic Speed
Your Nanoleaf Shapes panels react as quickly to music in real time as Sonic speeds up to save the world from Knuckles and evil Robotnik. Put on the perfect playlist to keep pumped up like Sonic and see how the colours change at Sonic speed.
Additional Features
16M+ Colours

Create the right ambience for any occasion with favourite Colours or any shades of white.

LayoutDetect™

Exclusive technology that enables intelligent colour animations based on your panel layout.

Touch Actions

Turn each panel into a smart button to control any or all of your HomeKit products at once.

Simple Setup

Attach your panels to a smooth surface with the included double-sided Mounting Tape.

Works as a Thread Border Router

Get instant reliable control of your Thread-enabled devices, like Nanoleaf Essentials Bulbs and Lightstrips, with no additional hubs.
Excludes the Channel Islands and overseas territories. Orders ship from East Sussex, UK.

30 day exchange or return
Shapes Shop
Limited time offer

Shapes ·

SKU: NL56-K-3202TM-32PK

Sonic Limited Edition Starter Kit

A complete bundle kit that comes with 32 Shapes panels that you can arrange in a shape of Sonic, Tails or Knuckles, or in any other layout of your choice.

Download the guide

for the perfect Sonic, Tails or Knuckles design.

What's in the Box?

What's in the Box?

Sonic Limited Edition Starter Kit

4x Triangle Light Panels

28x Mini Triangle Light Panels

32x Mounting Plates

33x Double-sided adhesive Mounting Tape

33x Linkers for connecting panels and Controller

1x Controller

1x Power Supply (Type C or Type G)

1x Quick Start Guide

Add to cart

Only units can be purchased per person at this time, sorry for the inconvenience.

Add to cart

Only units can be purchased per person at this time, sorry for the inconvenience.

Out of stock!

Get notified when more arrive.

Thank you! We will email you as soon as this item is available again.
Looking for more?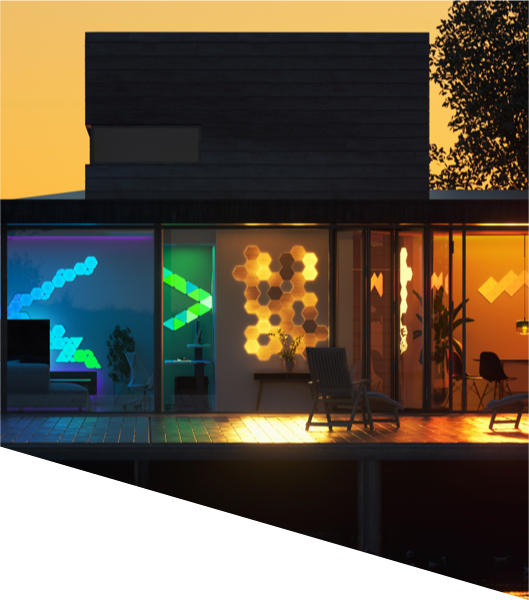 Looking for more Nanoleaf?
Discover the entire lineup of Nanoleaf products, and find the one that's perfect to light up your home!
Explore designs from the Nanoleaf community
INTEGRATIONS
Works with Razer Chroma

Sync brilliant colour effects across all of your Nanoleaf and Razer Chroma devices while you game!

Works with Google Assistant

"Ok Google, turn the
lights to blue."

Works with Apple HomeKit

"Hey Siri, dim the lights to 50%."
From the Nanoleaf Community
Top Geometric Lights

Nanoleaf's Shapes tops the charts of geometric lights. These are reactive to touch, letting you tap individual shapes to control things like volume and programmed gradient effects, and the built-in music visualizer syncs it up to your favourite music.

Free from Restrictions

The new Nanoleaf Shapes will allow you to mix various panel shapes to create nearly any kind of design and shape on your wall, free from restriction.

Instant Makeover

Like a great piece of furniture, the Nanoleaf Shapes instantly makes your room feel and look better.